There have been a few comments that the mask doesn't look like the promo picture, but the fact is the pictures of the mask on my web site are of the Production Master of the mask. For those that don't know, the Production Master is the first production mask off the line that is used for Justin and I to approve for the rest of the run. Once approved, that becomes the template for the entire run. Hence the pictures on the our site and those used for promotion are the same exact masks as the ones being shipped. It's not like I have a one off Picture Mask to fool people with, it's the same mask. The lighting is different, since it was professionally lit and the hair is styled, but it is the
same exact mask
, and by the way, it's NOT Photoshopped!
And yes I'm over sensitive about this mask, because it has been two years of hell to make this happen, everything from contracts, to law suites, to material shortages, to production, to camel hair, to hang tags, to photos, to licensing labeling, to approvals . . . . . . . . . . You name it, it happened.
And I'll tell you truth, Justin and I didn't make this mask for the hardcore MM.NET Members or collectors, no offense, I love you guys, but we made it for the poor
Joe Myers Fan
that goes into a Halloween Store and can only buy what has been on the shelves 25 years, and doesn't know that they can spend $300 for an accurate mask in the independent UNLICENSED market or even if they did know, they can't afford it anyway! As Justin has said in numerous interviews, It was intended for the masses and available to the "hardcore fans" as an option.
It's not like I showed you this picture:
and delivered this: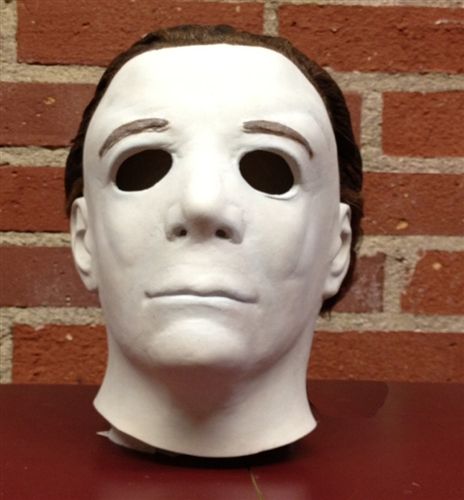 So when you compare it, compare it to what is available to other Halloween masks that are legitimately licensed to the public, not to masks you can get from independents starting at $300. That being said, we think our mask can hold up to a $300 mask, but that wasn't the goal.
Also, let me give you a quick update on the status of the orders. I have 1,000 units coming in at the end of July. Once they arrive, I need to inventory them (count) and ship them out, than the remaining masks will show up around the second week of August, I need to inventory them as well and than those will ship, so PLEASE hold your horses, you will get the masks. Sending me emails everyday or calling me prevents us from getting them out faster and keep in mind, it's not like I wanted to ship these masks late, I'm going nuts to get them out as well, but all of the milling factories for camel hair dried up and it took us a while to find other sources and we REFUSE to ship the masks without the camel hair on them. You might be mad about the fact that the masks are a bit late, but you would be a hell of a lot madder if we shipped the masks with synthetic black fur hair!
And, to all of you that have offered your condolences to my family as a result of the recent death of my father, thank you so much from the bottom of my broken heart. I miss my father more than I can express in words and I appreciate the support and kind words from you guys. I won't forget it.